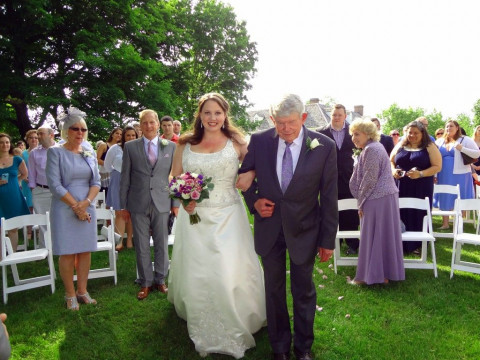 Imagine your wedding day. You, in your lovely bridal dress, Your mom helping you on with your veil, your photographer trying to get that all important shot. Your grandmother crying, your bridesmaids saying how lovely you look. You are feeling like you are floating on cloud nine, and BZZZZIP, the venue calls, your caterers are running late, what do you want them to do? Do you need this Problem right before the ceremony. Answer: of course Not! - You need someone who will be the contact person, decision maker, and not tell you that there are problems. What do you do? You hire Asta Wedding Planning as your wedding Management Company. We are also the rehearsal Directors. Our staff is on radio communication with each other, they are working with your venue, caterers and other vendors for a well tuned and harmonious ceremony and reception. We listen and learn what you want for your wedding day. We offer Full Planning, Partial planning or "Only Day-Of." We now offer Directing and Ceremony Only Help. We do all of the planning, organizing so you can rest and enjoy your wedding day. We learn what you want and direct the day by working with your vendors and following YOUR requirements to create a wedding day to remember. Free initial meeting, to see if we are the right planner for you. Free sound amplification at your rehearsal. We specialize in outdoor ceremonies, but love indoor ceremonies and receptions too. To see how Big Day Small World is working for us, mention you saw it here and take 15% off of any package. Our web site is www.AstaWeddingPlanning.weebly.com Office hours: Monday - Thursday 12 -5. We are a store front. Licensed and insured.
Specialties
"Month of" and "Day of" Consulting
Additional Staff Available
Any Size Wedding Or Event We Are Very Affordable !
Bridal Tiara Sales
Bridal Tiaras
Budget Weddings
Business License And Insured
Cake & Dinner Napkin Sales
Ceremony And Rehearsal Coordiation
Ceremony Direction
Coordination
Customized Wedding Packages
Day Of Coordinating
Day-of-Coordination
Destination Weddings
Event And Party Planning
Event Planner
Event Planning
Fans With Program
Full Ceremony Management
Full Service Planning
Invitation Sales
Invitations
Linen Rental
Minister
Only Rehearsal & Ceremony
Partial Planning
Photo Montage
Photographs To Video
Private Ceremony
Programs
Rehearsal Directing With Music
Rental Assistance
Room Uplighting
Sound Amplification At The Rehearsal
Sound System For Ceremony
Staff On Radio Communication
Timeline Created For Vendors
Wedding Ceremony
Wedding Classes
Wedding Officiant
Wedding Packages
Wedding Planner
Wedding Planning
Wedding With Reception
Weddings
Wireless Microphones