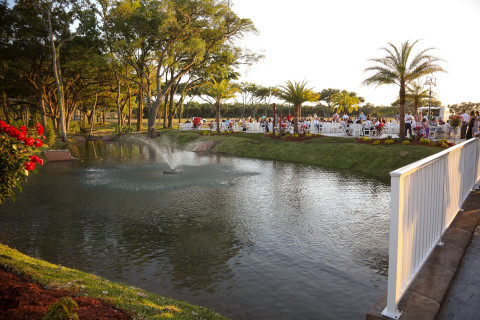 Address: 16316 Bellamy Brothers Blvd, Dade City, FL 33523 USA
Creekside Events of Florida provides a wide range of professional event and corporate venue services to meet all your every need. We promise to provide this service with the highest standards possible, always striving to exceed your level of expectation.
When you make the decision to have your event at Creekside Events of Florida you will have access to the following:
The choice of five event areas to custom fit your perfect event including:
Unique outdoor wedding chapel located on a hill overlooking 40 acres Oasis themed reception area complete with live waterfall, three tired palm trees, and antique lamp posts. Includes an elevated stage for a live band and DJ's to get the party started. Stage is well equipped with multiple electrical hook-ups.
4,000 square foot pavilion in case of unpredictable weather
Three-element park (wind, fire, and water) for an intimate, picturesque setting
Vintage railroad cabooses surrounding a sunken firepit for an additional cozy space
Facility devoted solely to your event. You will have access to the venue the whole day of your event as well as the night before beginning at 5pm for rehearsal.
Rehearsal dinner catering provided if needed at additional cost
Access to the entire property for breathtaking photo opportunities
Groom and bridal suites provided for day of event
Immaculate restrooms on site for your event guests
Parking lot attendants to ensure safety of all guests' arrivals and departures
Tables and chairs provided for up to 400 guests
Pristine groundskeeping before event and clean-up after event by staff
Ability to work alongside any vendor of your choice or we can provide a preferred vendor list for the specific needs of your event.
Specialties
Banquet Rooms
Bar Service
Bridal & Baby Shower Catering
Brunch & Tea Parties
Buffets
Chef Cooking On Site
Corporate Event Venue
Creekside Events of Florid
Dinner
Drop Off Lunches
Events Dj
Family Style Italian Dining
Fundraisers & Galas
Fundraisers Church School Weddings Receptions
Green Catering
Homemade NY Cheesecake.
Social Events Gatherings
Wedding Catering
Wedding Venue
Weddings