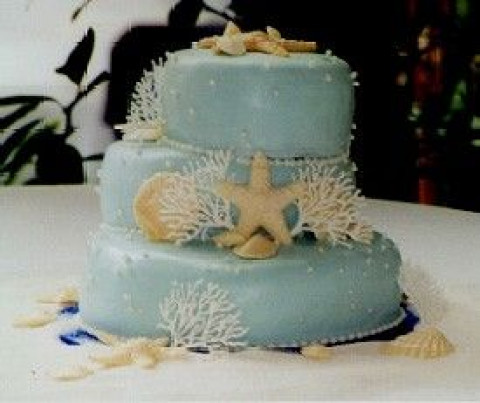 Creative CelebrationS specialize in a custom, one of kind wedding & groom's cake & personalized service to ensure your wishes are exceeded. We can create original designs or design from your cake photos/drawings to create just what you desire in your sugar confection centerpiece. Amaze your guest with realistic, edible seashells or delight them with life like sugar flowers that grace more traditional style cakes or gasp with surprise at the whimsical, catty-wompass cakes. We make each cake from the highest quality ingredients to ensure a mouthwatering, delicious cake to delight you and your wedding guests.
Our handmade, edible seashells can be purchased & shipped for bride's not celebrating on our beautiful beaches. Your local baker can use our beautiful shells to create your tropical, beach themed cake. They are great for unique edible wedding favors.
Creative CelebrationS can create & deliver your cake to most area venues, from venues in Panama City Beach, Destin, Fort Walton Beach, Seaside, Grayton Beach, Navarre Beach, Pensacola as well as Gulf Shores-Orange Beach, Alabama area. Delivery to out of state events is also available. We can have your cake boxed for travel, for customers who would like to pick up their cake from our shop in Fort Walton Beach, FL.