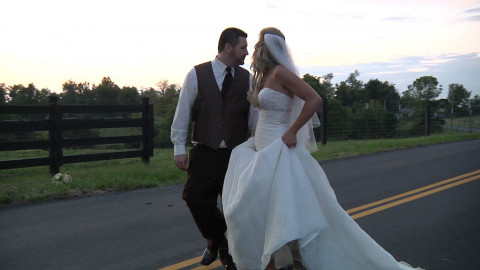 CINEMATIC FILMS
What will it cost for my film, Wedding films are labor intensive and require a great deal of editing time which of course drives up the cost of the project. Most of our clients spend between $2K - 3K on cinema video. We pride ourselves on being able to cover all markets because everyone deserves to be able to afford to have a quality film of their wedding. We have packages that are comfortably equipped under 2K. We offer a discount for grooms who are in the military
B & J Productions Fabuleux Films is a full event videography and editing business. We use professional high definition broadcast quality cameras with HD audio to capture your event. Depending on the package it includes bride and groom preparation, the entire ceremony, post-ceremony events (receiving line), cocktail hour, wedding party intro, first dance, all speeches and toasts, parent dances, cake cutting, dancing/partying, and ending with the last dance. Beautifully edited and delivered on a DVD with custom chapters, menus and case. Our philosophy is to provide you with a unique video memory with you as the star power. From our unique shooting and editing style, that mixes artistic and cinematic qualities enhanced by our utilization of movement, resulting in a video experience that is unduplicated. Only a film can immerse you back into the event allowing you to feel and relive the experience as though you are there again.
You and your family will savor every moment again and again.
We are committed to quality. Since 2006 we have been producing quality films for individuals and organizations that become more valuable with the passing of time. We take pride in keeping current with the latest technology. Today we use nothing but the higest quality HD digital equipmant to make sure that these memories will be preserved for generations to come. As we continue to strive for excellence in all that we do, it has been an honor and a blessing to serve famlies form all over.